Wemoto stocks the UK's largest range of motorcycle mirrors and fittings - and they're all at great prices. Choose from classic oval and circular mirrors, or a range of modern shapes and patterns, with finishes that look great on your bike - including chrome, silvered, carbon fibre or black. And with built-in indicators on many models.
Manufacturers' and pattern mirrors
We give you the choice of manufacturers' own mirrors or high quality pattern parts such as Vicma mirrors - all at low prices. If your bike isn't listed, you can choose from a range of standard sizes, finishes and types.
Whichever you choose, you can be sure that scooter, moped and motorcycle mirrors from Wemoto are always the best value.
Click below for shortcuts to bike mirrors:
Motorcycle mirror fittings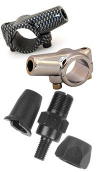 From adaptors for changing internal to external threads to bar end adaptors. And from extenders to handlebar clamps, we stock just about everything you'll need to attach a mirror to you bike and to adjust it so it's mounted exactly in the right place.
Click below for:
Search for your motorcycle (above) and motorcycle mirrors and fittings using the Part search (right).